New Home Warranty Inspections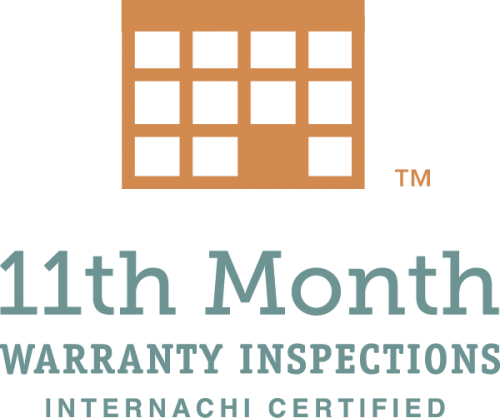 Get An Inspection On Your New Home

Before Your Builders Warranty Expires

A Builders Warranty Inspection on your new home by JWK Inspections will include an overall review and analysis of your home including an extensive computer generated report with photos before your builder is off the hook as your warranty is about to expire. Once your builders warranty expires, any unresolved issues become your problem. So, you should get a Warranty Inspection, that way you can have a happy anniversary on your new home with your builder taking care of any issues, including all minor deficiencies and especially major deficiencies on your home if they exist. If no major issues exist you have the peace of mind to know that there are no major problems of concern.
Joe Keresztury of JWK Inspections is a New Home Construction Specialist and was an award winning Custom Homebuilder for a quarter of a century while building homes in many prestigious neighborhoods and in numerous Parade of Homes in the San Antonio area since the 80's. He is a 1981 graduate of Trinity University in San Antonio with a Bachelors of Science Degree in Homebuilding.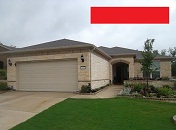 "Joe was extremely courteous and professional.
He took time to explain all that he found and the proper repairs.......was thorough and professional.
When the repairs were made by the builder, he (builder rep) had a copy of the report with him at all times. As each item was repaired, he checked it off and showed the report to me."
Dave N.- Warranty Inspection Client (2012) Northwest San Antonio (Alamo Ranch)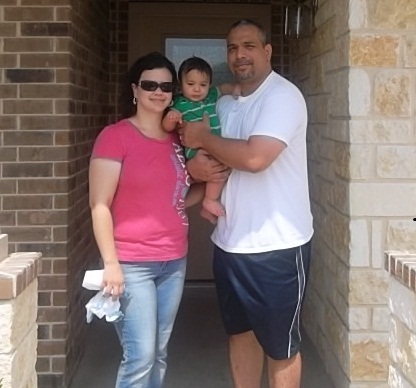 Ivan and Nytzie T. with new son Ivan at their Cibolo, Texas Warranty Inspection-
"Joe is proactive and has a great sense of integrity. I felt like Joe had my best interests in mind"
A New Home Warranty Inspection is performed before the one year aniversary of the closing and delivery of a new home, that you as the homebuyer purchased from your builder. There is an implied warranty where a builder is required to construct a well built home and a safe home according to industry standards including the International Residential Code (IRC) and the local Authority Having Jurisdiction (AHJ) requirements along with all manufacturers product installation specifications. Your builder provides a one year warranty that includes all components of the newly built home including workmanship. You also have your direct manufacturer's warranties for various lengths of time for many different products in your home. These manufacturers warranties in many cases require that their installation instructions were followed.

.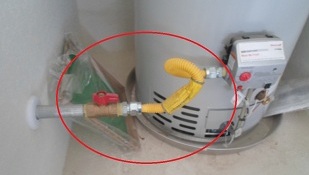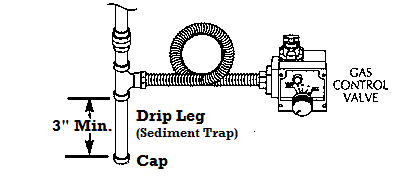 The image above @ left shows a gas line to a water heater missing the drip leg (sediment trap). The image at right shows the required drip leg at the gas line as is usually required by the manufacturer of gas water heaters. This is usually clarified in the manufacturers manual for installation. If manufacturers instructions are not followed your manufacturers warranty may be voided if you end up having problems. This is just an example of how your warranty inspection can reveal not just workmanship quality and structural issues but issues that may void your manufacturers warranty due to improper installations by the builders tradesmen.

You, as a homeowner should make sure you received all direct product warranty information from the builder and should register all the products with the manufacturer.
On your Warranty Inspection, JWK Inspections will examine for proper construction techniques being present in your home along with checking for code violations, safety issues and manufacturers requirement violations. The Warranty Inspection will include a review of the quality of workmanship, materials, proper installations as well as performance of all components including structural inside and outside of the home.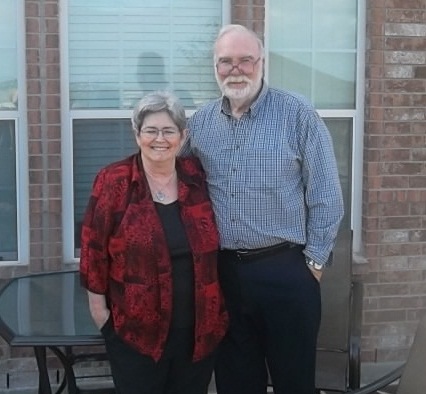 Dan and Lynda C. at the Warranty Inspection of their home -
"Mr Keresztury was both meticulous and professional........ exhibiting his highly developed knowledge and professional experience with home construction and applicable building codes. Additionally, he was prompt and precise in his communication with us and provided concise reports with photographs........
(I) highly recommend him for anyone seeking home inspection services. Our entire experience with JWK Inspections was excellent".
The Warranty Inspection on your home is one of the better investments you can make and is small in comparison to the overall cost of your home. The inspector might only find numerous cosmetic and workmanship items, which your builder should take care of, but imagine if there is something major that you're not aware of that the inspector identifies or something that is discovered that would cause problems and expense years down the line. Some things are just worth the peace of mind if nothing else and the warranty inspection is definitely worth the peace of mind and probably much more. Whether a home buyer received Construction Inspections and/or a Pre Move In Inspection the Warranty Inspection is the last line of defense to ensure the homeowner has received a quality product. Don't let your Builder off the hook. After one year you are stuck with all major deficiencies and minor cosmetic/workmanship imperfections on your new home. So make sure you receive all the full benefits of your builders warranty. Take full advantage of this and hire a qualified San Antonio area Home Inspector and New Home Construction Inspection Specialist to come examine and assess your home, so as to safe guard your major investment. For your protection get a New Home Warranty Inspection. Call For Warranty Inspection Pricing !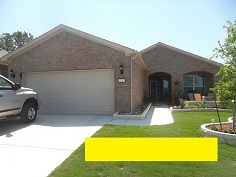 "Inspection was very thorough ......
...... Allowed us to have some issues repaired and resolved that may have gone unnoticed."
- Mike H. -Warranty Inspection Client
'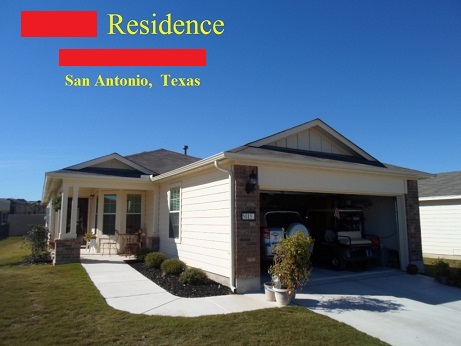 "All recommendations (warranty inspection report) were addressed by our builder.
In our mind this meant the recommendations were important".
- Eugene W. Warranty Inspection Client N.W. San Antonio, Alamo Ranch Neighborhood
.

"Having the report available lended credibility to the reported issues........ Builder was very responsive........
I was impressed with how informative the website was and therefore got the impression this guy (JWK Inspections) knows what he is talking about" !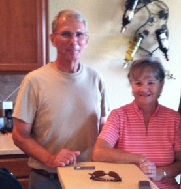 Terry S. - Client (2011) for Pre Move In and Warranty Inspctions
.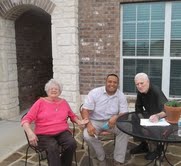 -
Sharon and Don P. at their Northwest San Antonio Home,
reviewing their warranty inspection report with Builder Rep Jose H. (center).
"Very satisfied ..… very fair fee and very informative….. a very good job..... Very professional inspection" .
"You are such a sweetie to help us in so many ways". - Sharon P


,



Hey .Joe
,
(Builder) took care of everything. I had your report and made sure each
different contractor repaired each item. Thank you for your excellent job.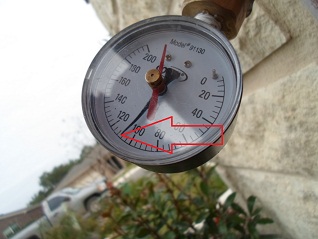 Joyce B. - Northwest San Antonio Warranty Inspection Client
.
"Very satisfied " . . . . .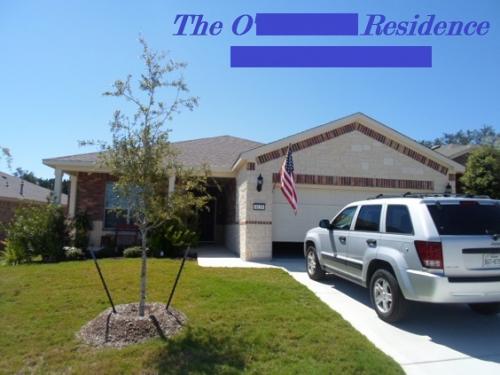 "Joe is very knowledgeable about construction, codes, etc.
His work was excellent. We would use him again." . . . . .
"The builder was immediately responsive to each
and every punch list item."
Warranty Inspection client Tom O. NW San Antonio area.
.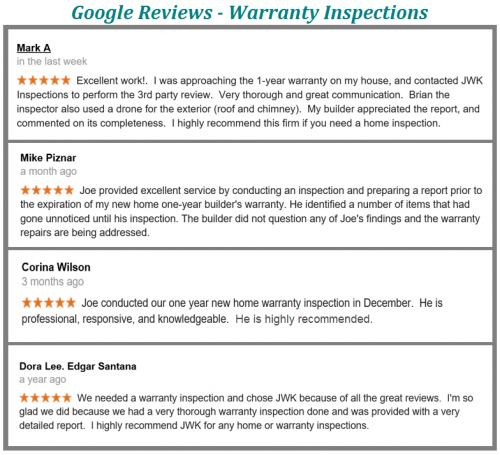 Click
)


.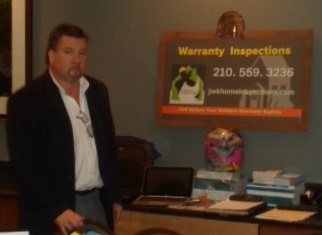 Call Joe Keresztury- JWK Inspections for your New Home Warranty Inspection @ 210.559.3236
Pricing starts at $275.00. Don't let your builder off the hook when your one year warranty expires.
Schedule your year ending warranty inspection now !
.
.
.

San Antonio Texas new home warranty inspections, New Home warranty inspections San Antonio TX, 11th month warranty inspections san antonio, New Home San Antonio builders warranty inspections