New Home Construction Phase Inspections in the San Antonio area
Construction Phase Inspections
are needed for your New Home
being built in the San Antonio area !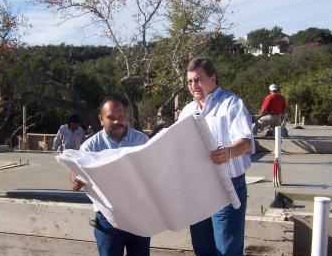 .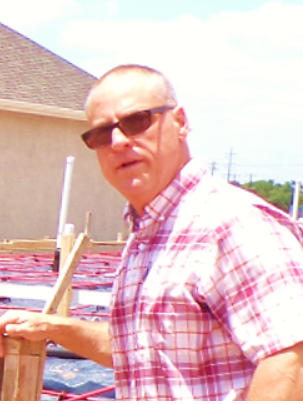 .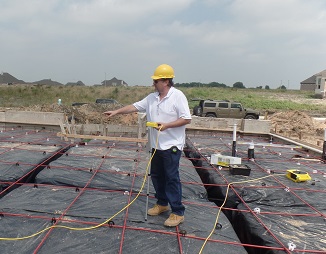 JWK Inspections & Consulting 210.559.3236
JWK Inspections features New Home Construction Specialists.
San Antonio area Home Inspector Joe Keresztury has over 40 years of New Home Construction experience and was an award winning Custom Homebuilder locally for a quarter of a century, along with having built in numerous area Parade of Homes. His extensive experience along with a Homebuilding Degree in 1981 from Trinity University of San Antonio will help ensure New Homebuyers that they will have, not just a qualified specialist for their New Home Construction Inspections but also that their new home will be a great investment and valued possesion for years to come.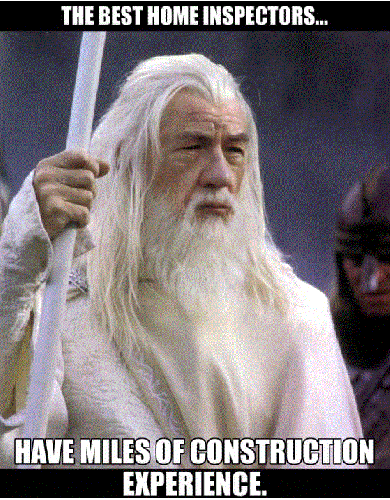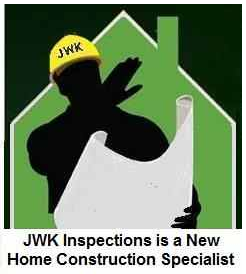 "It's not just an Inspection, It's also an Education"


Having your new home built can be a stressful experience.
JWK Inspections is available to make the building process as smooth as possible for you. As the buyer of a newly built home you have the choice and the right to hire an independent inspector to look out for your interest in the construction process of your large investment of your families new home. You are able to, and should hire a professional and qualified new home construction specialist before the start of construction and choose the phases of construction you want inspected. With construction phase inspections you are able to involve us, as your inspector, consultant and new home construction specialist as much as you feel is needed. This includes the standard phase inspections and also the availability of specialty phase inspections during any stage of construction when you don't feel comfortable with what you see and/or are told by the builder, the sales agents or even the subcontractors.
Why should San Antonio and South Texas area buyers of homes being built get construction phase inspections? Well, because there are no perfectly built new homes. If you think about it, a newly constructed home is not built on an assembly line in perfect conditions like your new Ford Explorer or your Toyota Camry.


Construction Phase Inspection Client Testimonial shown below- Photos also show views of different construction phases and inspections.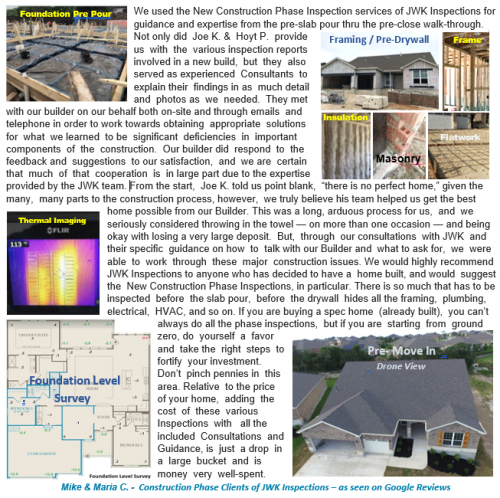 Construction Phase Client Testimonial with photos thruout the stages of Construct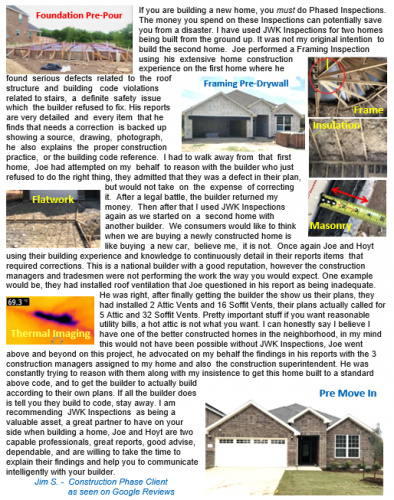 .
"If you're building a new home please contact JWK Inspections, we learned so
much from this company, this is one of the best investments we've made, this
company is superior in all aspects......
they (builder) tried to question some of the
findings from the report but in the end they knew Joe was right".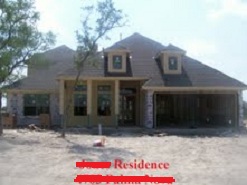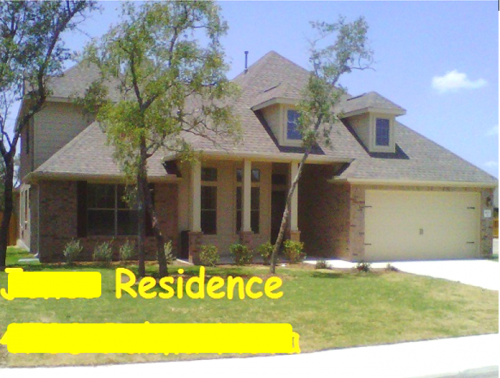 Tonya J. - New Home Construction Phase Client- Northwest San Antonio
.
Sometimes a builder may discourage outside independent inspections of their homes, which is your new home and large investment. Why would they do that? They shouldn't have anything to hide. You have a legal right under the (Texas) International Commerce Code to have the property inspected by your representative(s) prior to purchasing it. As per the ICC, "it is up to the purchaser to determine the soundness of the building prior to the finalization of the purchase and/or to hire a professional inspector". So, don't lose that right and opportunity ! !
"It's been great working with you through this
(Construction Phase Inspection) process,
and I feel like your services have been very beneficial.
I'll definitely be calling you for the warranty inspection".
- Ivan T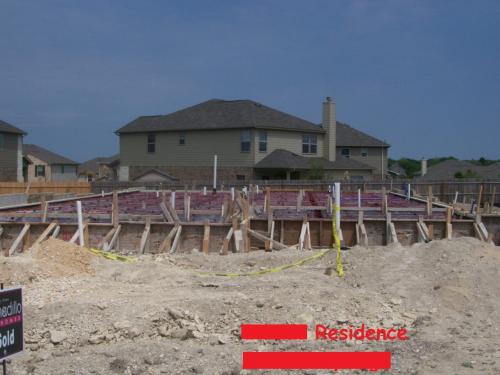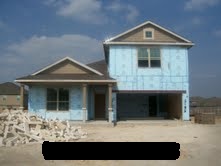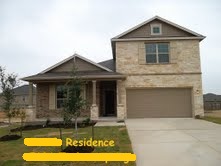 Foundation Pre Pour Inspection Pre Drywall Inspection Pre Move In Inspection
.

The builder may try to convince you that you don't need your own independent inspector because they have city required inspections and/or the builder has their own independent 3rd party inspector. If you are in a cities jurisdiction, the average city inspector spends no more than 10 minutes on their sometimes 20 daily inspections. They may check for major issues but are not there to look out for your interests as far as the quality and workmanship of the major investment you are making. The city inspector represents the cities interests not yours. Or maybe not even the cities best interest in some cases: http://www.woai.com/content/troubleshooters/story/City-code-inspectors-accused-of-taking-bribes/X3tUR9tukEyX-7e5Y315WQ.cspx
If the builder has their own independent inspector, who do you think that inspector is worried about taking care of, you or the builder that hires them and pays them? The builders own 3rd party inspector is not going to jeopardize losing the builders account by nitpicking the workmanship and quality of the product. They are there to look out for the builder not you the buyer. If the builder is paying them, do you honestly believe the builder's inspector has your best interests in mind?

"Very pleased in the cooperation given by our home builder after reports
provided from JWK Inspections....... very responsive of all
items needing to be addressed as outlined by inspector".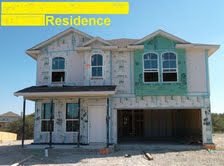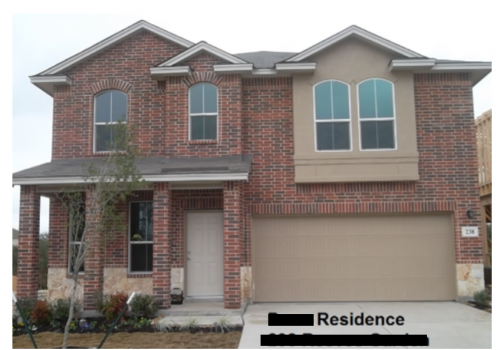 - Manuel P.

.

Your builder most likely has an onsite sales representative and you may have a real estate agent involved. These individuals are both paid a commission by the builder at closing, so it is in their best interest for the home to close as soon as possible with no delays. Don't get me wrong, a good sales person should and will look out for their buyer, but an onsite sales person for the builder is not going to want to ruffle too many feathers and put their job and commission in jeopardy. So who do you, the buyer, not likely knowledgeable in the construction process really have looking out for only your overall interests?
So, for a small amount as compared to the overall purchase price of your new home it should be considered prudent on your part to hire your own, unattached independent representative that has no other interest in the project, but to look out for you. Hiring JWK Inspections as your own personal 3rd party inspector will not only protect your investment, but will give you peace of mind on not just structural and code compliance issues but also with manufacturers requirements and safety issues along with the overall quality and workmanship of your new home by the builder you have chosen. It is essential that you hire the proper type of home inspector. Not all inspectors in the San Antonio area are qualified for new home construction. Just because an independent inspector is licensed with the state of Texas (TREC) doesn't qualify them for new home construction. So, it is of the utmost importance for you to hire an inspector that is a new home construction specialist.


JWK Inspections specializes in New Home Construction Inspections.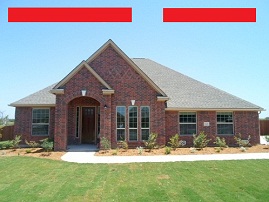 " Joe, was very knowledgable and professional; yet took the time to explain
in detail each report........The reports made my builder do an even better job
since he knew that I had someone looking out for my best interest.
MY FAMILY AND I ARE VERY HAPPY ! " - Tamala H.
Your new home is not going to be built on an assembly line. Actually your home is pretty much built out in an open field, a home site you picked out or land that a builder has chosen for construction. Building a new home is most likely the biggest investment you will ever make, well that is, until you decide to build that next, larger, more luxurious one as many families eventually do for an expanding family or to keep up with the Joneses.
"The builder was responsive to your report and corrected all the items.
We will be calling you for the pre move-in inspection." - Ben and Saira L.
Most likely your builder, whether a custom builder or a large volume builder is a good, quality homebuilder. A home being built has thousands of components that go into it, so mistakes can and will be made. Considering all the subcontractors, suppliers and manufacturers, there are thousands of workers, craftsmen and technicians that work on your homes products before delivery and/or at the home site. So, human error is always a possibility.
"
Builder was very responsive".......
....... I was impressed with how informative the (JWK) website was and therefore
got the impression this guy knows what he is talking about". - Terry S.
While residential homes must be constructed according to local, state and federal code requirements, a buyer should understand that these codes are only the minimum acceptable standards required by law for the future occupants. Meeting the minimum standards does not necessarily ensure quality, because workmanship is not a factor in code inspections.


.




"Mr. Keresztury was both meticulous and professional in his phase inspections of our house,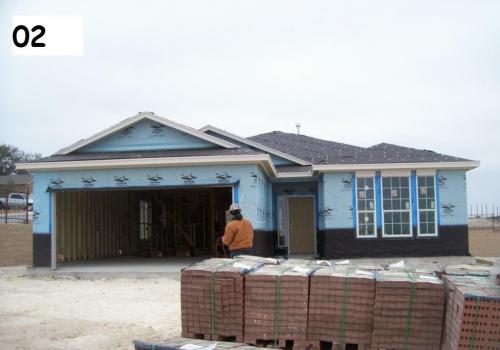 exhibiting his highly developed knowledge and professional experience with home construction
and applicable building codes........ and provided concise reports with photographs that supported us in assuring the builder
met our requirements in producing a well built home". - Dan C.
"I believe the price I paid for the inspections was more than offset by the corrections the builder made. And I also learned alot about my home in the process. I would highly recommend Joe to anyone who needs a home inspection--particularly during a home construction."
- Robin B.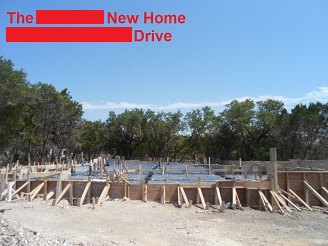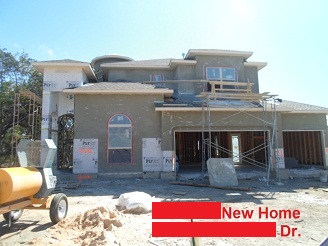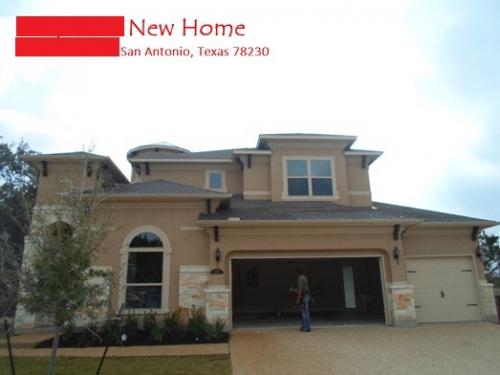 Foundation Frame Final
You deserve to have your new home built as close to perfect as possible. So for a nominal fee we can inspect your new home to assure you of that. Whether you are building from start or buying during construction or after the new home is complete hire an experienced new home construction inspection specialist for your new home, it will pay off, even if only for peace of mind but probably for much more. It is a small fee to pay, especially if the inspection uncovers minor or in some cases major problems that the builder corrects yhat coulld have come back to haunt you and/or cost you in years to come.
.
The most common Construction Phase Inspections are:
Foundation Pre Pour Inspection-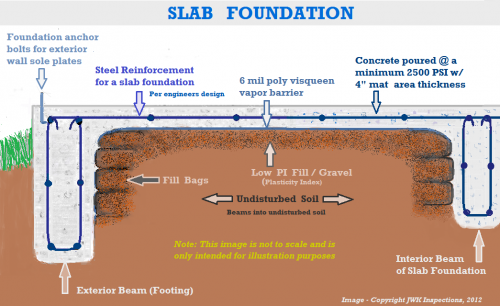 Your Foundation pre pour inspection is important since once the concrete is poured any improper material, workmanship and reinforcement is covered up. The slab foundation inspection includes review of, but is not limited to the forms and bracing, proper fill, beams/footings along with the re-enforcement (rebar or post tension), proper moisture barrier seal, clearances, proper mat area depth, plumbing and electric rough ins, squareness of slab and much more. If a slab is out of square it can be corrected before the concrete placement.
Once the slab is poured your stuck with what you get if deficiencies are not corrected including if it's out of square, missed measurements, improper reinforcement, inadequate clearance for concrete, improper seal of the moisture barrier, bowed out slab due to improper forms or bracing and much more.
More foundation info for review -
Concrete Slab Foundation:

http://www.jwkhomeinspections.com/blog/joe-keresztury-san-antonio-home-inspector-new-home-slab-foundation.html
Post Tension Slab for Review:

http://www.jwkhomeinspections.com/san-antonio-home-inspector-post-tension-slab-foundation.html
\

.

Framing / Pre Drywall Inspection-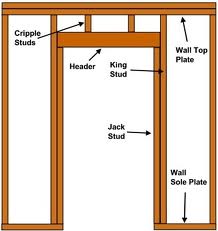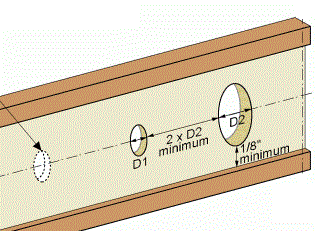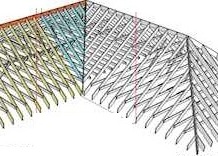 The Framing Inspection is also referred to as the Pre-Drywall Inspection and should be performed not just before Drywall (Sheetrock) but also before the Insulation is installed and before the start of Masonry at the exterior. If your builder is further along on the exterior and would like to start masonry work, then the Framing (Pre Drywall) inspection can be done in two phases, with the exterior first prior to the interior so masonry can be started and then interior can follow when it is ready for inspection.
The Framing/Pre-Dywall inspection is usually the most important inspection of all, inspecting many of the major components of the home before it is covered up by sheetrock. A thorough analysis is performed of the structures framing construction techniques, including but not limited to wall frame, ceiling frame, floor joists and roof frame, exterior wall and roof sheathing, along with house wrap, siding, cornice, window install and seal, visible roof flashings, fireplace install, fireblocking/stops, all materials and workmanship at this stage. Also reviewed is the mechanical systems including the HVAC rough in, plumbing top out and electrical rough in and any other rough ins for specialty items. Additional frame info for review:
http://www.jwkhomeinspections.com/blog/collar-ties-rafter-ties-purlins-san-antonio-home-inspector.html
Mr. Keresztury,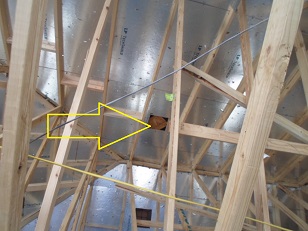 "Thanks again, my wife and I took a big sigh of relief after (inspection) talking to you and you showing us the stuff that should be corrected along with your great recommendations. Thanks again for the great service and we really appreciate you taking the time to explain everything to us".
Daniel B. - after New Home Frame (Pre Drywall) Inspection.

Pre Move In Inspection-

A Move In Inspection can be done before or after move in, but it is better to have it before. That way with a pre move in inspection all or most items, corrections can and should get done before closing and move in. If there are some outstanding items to take care of they can be put in writing with an agreed completion date. The document can be signed at the Title Company, by the buyer and builder as part of the closing documents when closing occurs. If necessary the buyer can request that an agreed upon amount from the builders funding be kept in escrow until the completion of the corrections that are included in the signed, document for outstanding items to be completed.
" Mr. Keresztury was an immense help in the purchase of our first home. With his practiced eye, he was able to identify any mistakes, overlooked items, and structural problems, big or small. Mr. Keresztury went above and beyond to protect us as the homeowner and make sure we had a safe home buying experience. I would absolutely recommend his services and rate JWK as an excellent company".
Julianne W. - Client for- New Home (Builders) Pre-Move In Inspection - San Antonio, TX


As the buyer of a new home your best line of defense for a well-built home is to hire your own qualified, New Home Construction Inspection Specialist to monitor the new home during the different phases of construction. JWK Inspections is available for all your New Home Construction Inspection and Consulting needs.
Call Joe at 210.559.3236
For additional info visit: http://www.jwkhomeinspections.com/San-Antonio-New-Home-Construction-Phase-Inspections-blog.html

See our blogs on New Home Construction Phase Inspections. and
New Home Warranty Inspections
'
San Antonio TX new home inspections, San Antonio Texas New Home Construction Inspections, Construction Phase inspections San Antonio Texas, Foundation pre pour inspections, Pre drywall framing inspections San Antonio, New Home pre move in inspections.