Types of Inspections and Services
JWK Inspections-

Your San Antonio Area Home Inspector

" Not just an Inspection,

but also an Education "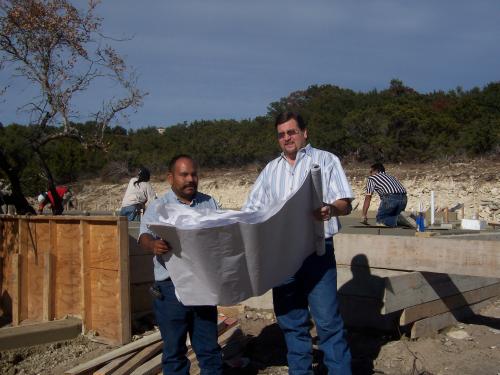 JWK Inspections offers a wide range of Inspections
and services in San Antonio and surrounding areas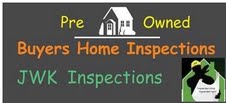 Click on image for more info
A Buyers Home Inspection is ordinarily performed just after the contract.
In some cases it is done before the contract is signed. The contract should have
a contingency clause based on the inspection, protecting the buyer if there are
major concerns in the Inspection report. The inspection report can also serve
as a negotiating tool for the buyer on discrepancies found. An Inspction when
buying a home will serve to protect the buyer on such a large investment.
A Sellers Home Inspection: For the seller before or during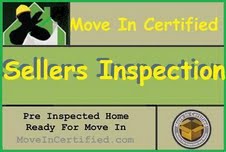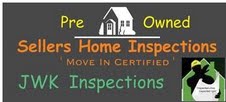 the listing stage of the home. This Pre Inspection can benefit all parties involved.
See our blog on this site about Sellers Inspections for more info.
Click on the above images to view the Sellers Inspection Blog on this site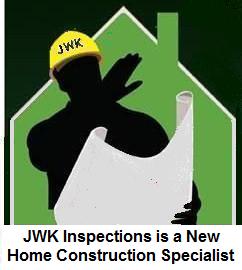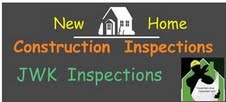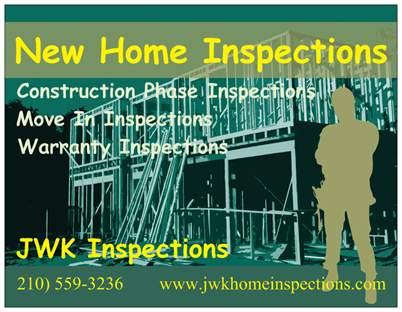 Construction Phase Inspections are important when
having a new home built.
The most common Construction Phase Inspections are:
-The Foundation Inspection - Pre pour and / or Post pour
-Frame Inspection (pre drywall)
-Final Inspection also known as the Move In Inspection.

Click for New Home Construction Phase Inspection info: http://www.jwkhomeinspections.com/new/home/construction/phase/inspections/san/antonio/inspector.html
.

Protect your investment.
Get a Warranty Inspection. Don't forget to get your new home inspected before your builders 12 month warranty expires. Let an Inspector find deficiencies that your builder is responsible for until your one year warranty expires. After that you are stuck with repair costs.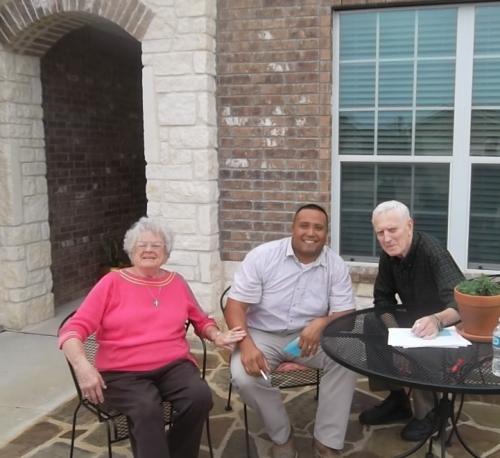 Photo here shows a follow up meeting to review the warranty inspection report with Don and Sharon P. and Jose H. the Builders representative at a Northwest San Antonio neighborhood.
Click for New Home Warranty Inspection Info:
http://www.jwkhomeinspections.com/new-home-builders-warranty-iinspector-inspections-san-antonio.html
.


JWK Inspections can inspect your Commercial Inspections are available
Multi Family property, whether
it is a few units or hundreds of units
Click for more Commercial Property Inspection info:
http://www.jwkhomeinspections.com/commercial-property-real-estate-inspections-san-antonio-austin-multi-family-inspector.html
.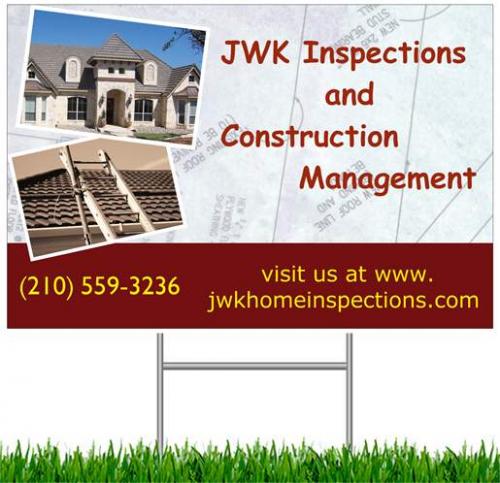 Consulting, Construction Management Services are available along with Build Your Own Home Services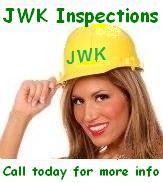 210.559.3236