Exterior Inspection Items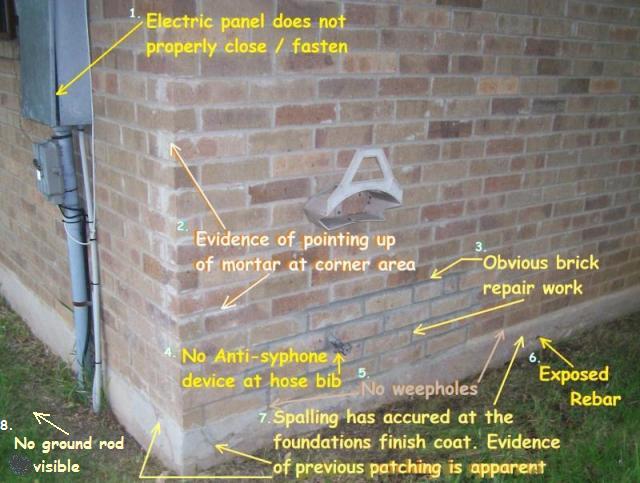 Exterior Inspection items noted, such as masonry, foundation, electrical and plumbing.
1. Electrical panel cover can not properly seal. Should be able to properly close cover to seal interior of the main electrical panel from exterior elements.
2. Pointing up of mortar at corner is evident due to mortar color variation and most likely was due to settlement.
3. Evidence of Brick work being redone (mortar color variation)around the hose bib area which is also outside the master bath tub area. There is a good probability that there was a plumbing leak in this area, so as the brick had to be removed for plumbing repairs.
4. The exterior faucet (hose bib) does not have a anti siphon device to prevent backflow into the water system.
5. Weepholes are not present at this area of masonry and other areas of home. Weepholes should be placed no more than 33" apart at all masonry areas.
6. Exposed rebar in this slab foundation should be sealed over to prevent further rusting and corosion.
7. The corners of the slab foundation indicate repairs have been attempted for spalling, corner popping issues.
8. No ground round is evident at the main electric panel and service entrance area. Most likely the ground rod has been covered by grass and soil over the years. A proper ground rod hook up/ install should be verified.
Photo by JWK Inspections