Choosing a Remodelor
Submitted by JoeKeresztury on Mon, 07/05/2010 - 08:10.
Choosing a Remodeling Contractor in the San Antonio area

Choosing a remodeler is very similar to choosing a custom home builder. As a matter of fact you will find some home builders who also do remodeling and additions, especially when times are slow. Sources for good remodeling contractors in the San Antonio area are real estate agents, home inspectors, local builder/trade associations and referrals from friends or family who have had successful projects done.
When choosing a remodeler, it is of great importance to check references of previous work done. A Home Improvement contractor should have general liability insurance that you should be able to be added to as a loss payee. The remodeler should be licensed as required by the local jurisdiction as is a San Antonio home inspector.
A homeowner should obtain three bids from qualified remodelers. It is important to understand that the lowest bid is not always necessarily the best. Keep in mind that if you have 3 bids and two are close in price and the 3rd one is quite a bit lower, that their is a possibility that contractor missed something or will be cutting corners. Make sure all of the contractors are bidding apples to apples and that they all have well written, clear proposals. Always remember, you get
what you pay for.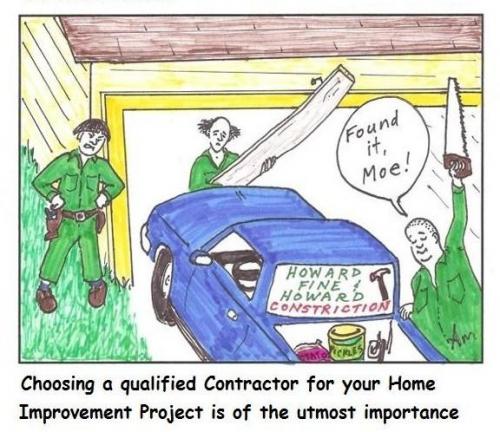 Sometimes it does pay off to have spent that little extra for a more reputable and established contractor that will give you a desirable addition and/or remodeling project that will bring the highest return when it's time to sell.
A homeowner should be provided a written contract by the contractor that clearly spells out every stage of the project plus specifications, inclusions, exclusions with detailed allowances along with a projected construction schedule, property access schedule, a clear set bid (total price) along with payment schedule and change order procedure, plus any other pertinent information or requirements.
The San Antonio area has many fine remodeling companies, so take your time and do your homework in choosing the right home improvement contractor and planning your project correctly.
For the greatest payback, the importance of quality products and workmanship is of the greatest essence and should not be compromised. If you are thinking of doing the work on your own project, don't do it!! Hire a pro.
Your home is one of the biggest investments you will ever make, so on your remodeling or addition don't take any chances with such an important financial project.
by Joe Keresztury, JWK Inspections - San Antonio Home Inspector

A liitle Remodeling humor- The blond wife decides to show her husband that they don't need to hire a remodeling contractor, since she can do alot of it herself. So she decides to start by giving her home a fresh look and while her husband is off at work, she decides that she is going to paint a couple of rooms. Her husband arrives home at 5:30 and smells the distinctive smell of paint. He walks into the living room and finds his wife lying on the floor in a pool of sweat. He notices that she is wearing a ski jacket and a fur coat at the same time. He goes over and asks her if she is OK. She replies yes. He asks what she is doing. She replies that she wanted to paint the house. He then asks her why she has a ski jacket over her fur coat. She replies that she was reading the directions on the paint can and they said.... FOR BEST RESULTS, PUT ON TWO COATS.
JWK Inspections is available for Home Inspections in San Antonio and surrounding areas Monday thru Saturday. Consulting and Construction Management Services are also available. Call Joe at 210-559-3236